Non-Toxic Product Guides:
Get an A+ in Back To School with Non-Toxic Lunch Gear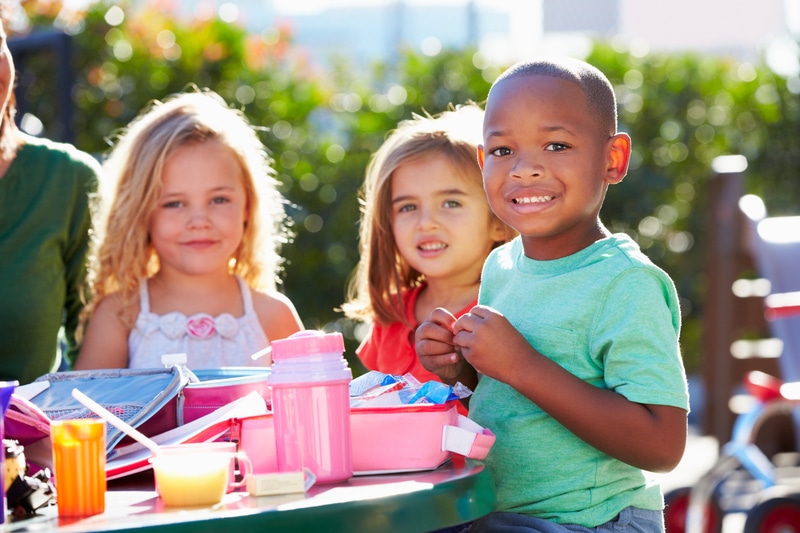 Summer, as always, has come and gone in the blink of a firefly, and now we find ourselves getting ready for school. With overwhelming lists of school supplies & juggling new schedules, re-evaluating your kid's toxic exposure can slip on your Back-To-School to-do list. That's why we're here to make it easy to reduce your family's toxic load this school year. We're focusing on non-toxic lunch gear because a lot of parents don't realize that lunch gear staples commonly contain chemicals that are endocrine-disruptors & carcinogens. These chemicals can leach out into the food contact surfaces that your kiddos eat on, so you can make much safer choices by making just a few simple changes.
Shift to non-toxic lunch gear
Take a look at the school gear your children use the most and – most importantly!- eat or drink out of. You'll want to make sure your child's lunch gear is free of lead and PVC and that any plastic you use is BPA-free and phthalate free.
One of the most common but most important toxic chemicals to avoid is PVC, and a ton of kids' lunch gear is made from it.  PVC (Polyvinyl Chloride) or "vinyl", is a human carcinogen that contains other toxic chemicals too –  like lead, phthalates & dioxins. The toxic chemicals in PVC are linked to hormone-disruption, cancer & developmental toxicity.  You can reduce your family's exposure by avoiding PVC and choosing containers made of safer materials, like stainless steel or glass. To avoid PVC, look for "PVC" or #3, often near the recycling code.
Another category of chemicals that are common in kids' lunch gear are the toxic twins BPA & BPS. BPS has been shown to have the same endocrine-disruption problem as BPA. A study showed that 93% of Americans have BPA in their urine.  To avoid these, go for stainless steel or glass whenever possible. If you have to use plastic, go for the safer ones (look for the recycling codes  1, 2, 4, or 5 and avoid those numbered 3, 6, or 7).
Luckily, you're not alone in the search for safer back to school goodies!  Here are a few options for non-toxic lunch gear we love.
Lunchboxes
Stainless steel lunchboxes are safer options than plastic and are available in tons of fun styles that are durable. These bento-style boxes from Planetbox and LunchBots make lunch more fun and – miraculously- leftovers seem less boring!
Or let Maia over at one of our favorites, Gimme The Good Stuff, do the picking for you in her roundup of plastic-free lunch packing supplies.
Thermoses
Because adding heat to plastic is where a lot of problems start, finding safer options matters a lot here. Mighty Nest put the kid's lunch category through the ringer in this Nontoxic Lunch Guide roundup, and these two thermoses came up the stay-warm, leak-free winners: Thermos Foogo and Kid Konserve.
Sandwich bags
What about that ubiquitous plastic baggy? It's pretty much the worst. It's one of the trillion plastic bags we discard each year, which take a thousand years to biodegrade and all the while leach harmful chemicals into our environment. Yikes! Instead, check out a reusable option. Whether they love crusts on or off, you're sure to love Bee's Wrap re-usable alternative to plastic wrap and Lunchskins Reusable Velcro Sandwich Bags for toting your kid's PB&J.
Take care with care
Make sure you're heating and washing lunchboxes, food containers and thermoses correctly and avoid microwaving or washing plastic containers (or containers with plastic parts!) in the dishwasher. Heating plastic is a no-no – it can release the endocrine disrupting chemicals that leach into food and beverages. Even stainless containers can have plastic parts, which when heated can leach chemicals into the food or break down. And, when food needs to be covered in the microwave, use a paper towel instead of plastic wrap.
Lunchboxes and thermoses can bring unwelcome hitchhikers home (if you've ever smelled a thermos of milk after a hot day you know what we mean!), but the toxic chemicals in wipes and household cleaners are no field trip themselves. And, since you now know that putting lunch gear into the dishwasher isn't the safest option, you'll need a non-toxic option for getting all those nooks & crannies clean. Force of Nature is as effective as bleach, but safe enough for your little students to use themselves. It's so safe, you don't even need to rinse after using it. From lunchboxes and backpacks to thermoses and utensils, just spray, wait 30 seconds and wipe off. It's perfect for keeping your non-toxic lunch gear squeaky clean.