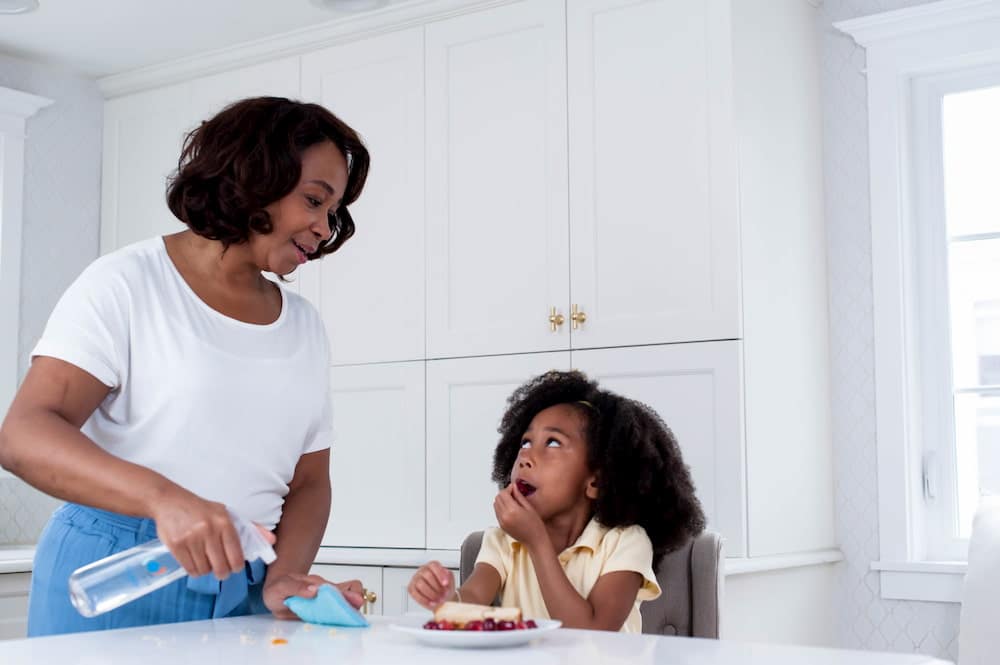 If you're like most families, your kitchen is the central hub for family gatherings, art projects, homework and lots of other mission-critical operations. A big "no-no" is probably kitchen cleaners with toxic fragrances, dyes, preservatives, irritants and fumes.  Surprisingly, even those labelled "natural" often aren't non toxic cleaners because
there are no federal regulations that dictate standards
for products labeled as "natural".
The Non Toxic Cleaner for Every Kitchen Challenge
Fortunately, cleaning your kitchen doesn't have to be a bio-hazard thanks to Force of Nature—a small appliance that transforms salt, water & vinegar into a powerful yet completely non toxic cleaner & deodorizer.  It's so safe there's no need for gloves or rinsing off food surfaces – and it's even safe enough for your kids to help you clean!  Besides your countertops and tables, you can use it in these surprising kitchen hotspots:
1. Sponges and scrubbers
Generally, these are 2 of the nastiest items in your house because they stay damp and are used to wipe so many gross surfaces. To clean these grime & odor magnets, simply spray your sponge or scrubber daily with Force of Nature.
2. Garbage disposals
It's no secret the garbage disposal is an odor factory; after all, it collects food that's raw or past its prime.  For cleaning and deodorizing, run the disposal, then spray in Force of Nature to stop that rancid odor in its tracks.
3. Cutting boards
After you're done chopping produce, poultry, beef or fish on a cutting board, spray it with Force of Nature. Because it's a non toxic cleaner, you don't need to rinse.
4. Keep flowers fresh longer
We hate it when fresh cut flowers droop before they're supposed to.  Spray Force of Nature onto the stems once each day to keep those blooms beautiful longer.
5. Trashcans
Ah…the kitchen trashcan…the holder of the remains of wonderful meals, the aftermath from science projects gone bad, long-lost produce and of course, horrible smells! Spray Force of Nature into the trashcan once or twice a day and the natural deodorizer will make that monster bearable until you have time to take out the trash. It's non toxic so no need to worry about spraying it around the fuzzy noses in your house.
6. Stovetop surfaces/burners/grates
Your stove area serves as a popular hangout spot for grease, grime and all kinds of stuck on messes. Force of Nature kicks grime, spills and splatter to the curb all while stopping lingering odors. Just spray it on thoroughly, then wipe.
Bottom Line
Whether you want to clean sticky messes, grease, grime or nasty odors—Force of Nature is your go-to non toxic cleaner and deodorizer. Learn more by
clicking here
.