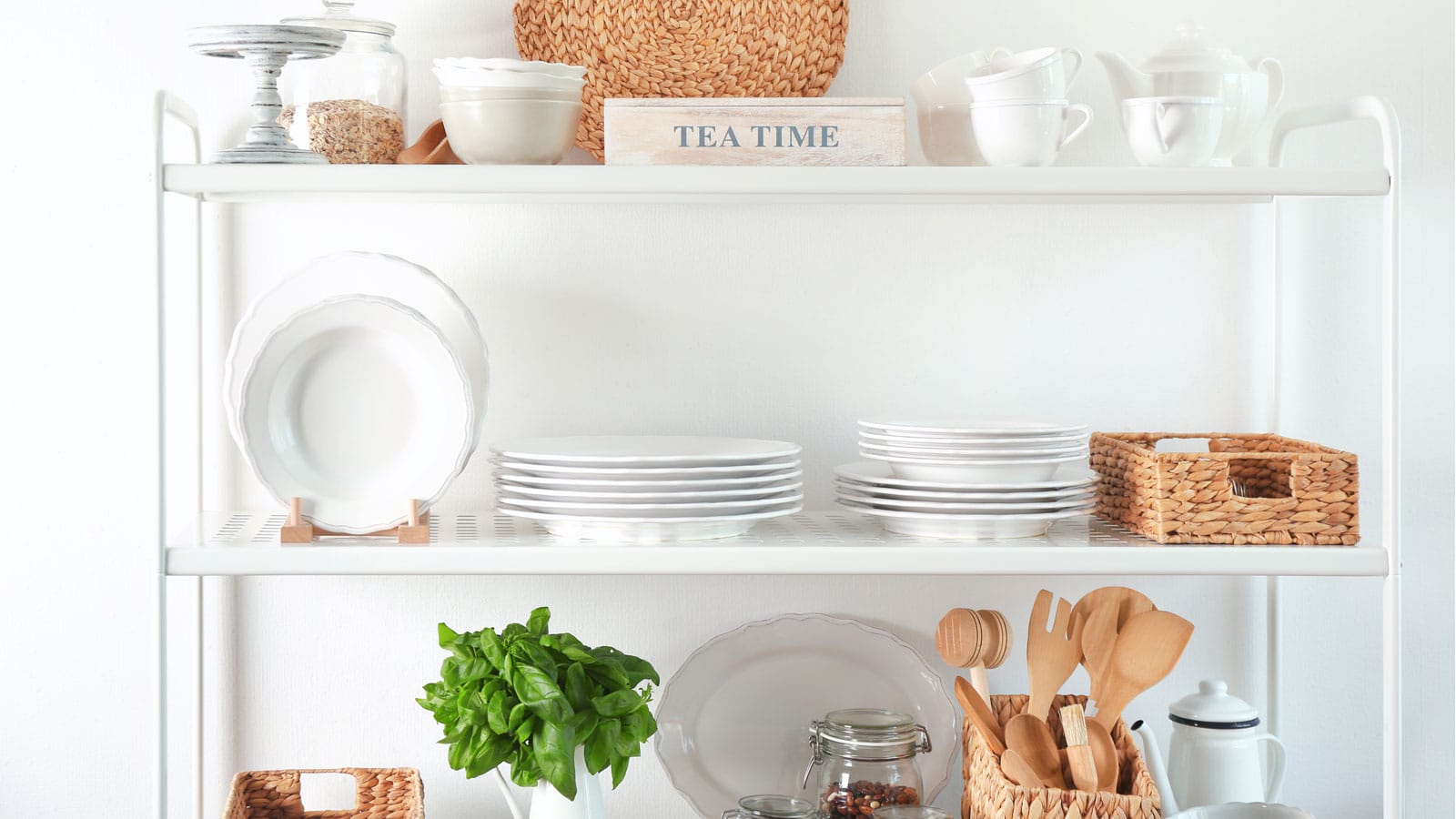 In honor of National Get Organized Week, we're helping you conquer the worst of the worst: the top 5 hardest things to organize in your home. You know – those places where you struggle to decide if anything "
sparks joy
"
and makes you want to throw in the dust towel the second you open the cupboard drawer? Those are the Big Wins – and we're here with organizing tips that will conquer them once and for all!
Organizing Tips For The Top 5 Hardest Things To Organize In Your Home
1. Food Storage Containers
How is it that the exact things that are supposed to help you stay organized are the hardest to organize themselves? Here's your gameplan to taking back your Tupperware drawer:
Take them all out and toss or repurpose any that don't have tops or bottoms that match. One great idea is to use your topless containers as organizers within your junk or makeup drawers for small items like hair ties, floss or batteries. You can also get stacking lids to fit bowls you already have from brands like Food Huggers!

Replace your plastic containers with a sustainable, non-plastic solution like glass or silicone.

Plastic is a major problem for our environment

, but it's especially worrisome when used to store food as it

can leach harmful chemicals into the food for your family to consume, leading to a host of scary health effects.

These silicone baggies from Stasher

can often replace food storage containers for things like stray chicken nuggets, chopped fruit and veggies or hard-boiled eggs and, because you can squeeze the air out, can keep your refrigerated or frozen food even fresher. Reusable Storage Wraps are

another great way to replace saran wrap and will hold its shape if twisted to seal around leftover food, like cut lemons or a half-onion.

On

glass containers

and these

stainless containers

, you can use masking tape and a sharpie or a wet-erase marker to write directly on the glass to mark the date. Or, if you're feeling extra organized, we are heart-eye-emoji for

this Bluetooth label maker

.

Don't overbuy! We all think we need a million storage containers, but what we really need is to use them, eat the contents in a timely manner and get them back in rotation.
2. Underwear & Sock Drawers
The. Worst. Right? First, ruthlessly purge. If it's got holes or it's a sock with no mate, it's got to go. Make a pile of your favorites and order a few more pairs. As you replace them, seek out
brands
that use 100% organic cotton to support sustainable practices and helps you to
avoid absorbing pesticides through your skin
. Lastly, divide up your drawer using
inexpensive drawer organizers like these
. And remember this: no matter what your mom told you, you do not have to fold your underwear!
3. Kitchen Tools
If it's a single-use item and you can't think of a single time you've used it, you know what we're going to say. Here's our top organizing tip for kitchen clutter: take everything you haven't used in the past few weeks and box it up temporarily. Keep it somewhere handy where you can grab the spatula or whisk you're missing if you need it. If you haven't used it in 30 days, donate that box guilt-free and make another chef out there very happy! Organizations like
Big Brothers, Big Sisters
accept kitchen item donations, as well as other organizations that help people get set up in living spaces. As you replace kitchen tools, seek out ones made from sustainable and
non-toxic materials like stainless steel, bamboo, and silicone
.
4. Your Email Inbox
Okay, we lied,
this
one is the worst! Even though it's digital, the mental clutter of a packed email inbox brimming with junk is demotivating and stressful. Make like
this Washington Post journalist
(who reduced her inbox from over 180,000 emails to zero in 2 weeks!) and follow the organizing tips from
Productivity Pro Laura Stack's
the "6 D's:"
Discard

—Permanently get rid of it. Ask yourself the tough questions—do you really have the time to read it? What's the worst that could happen if you discard the item? Can you get another copy if necessary? You must be ruthless in this stage! Studies have shown we only refer to 20% of all the information we insist on saving. Today, the question is not, "Can I throw this away?" but "Why should I keep this?"

Delegate

— Refer the item to someone else. Get it going "out the door" to that person right away. We cannot "manage by doing" in the Digital Age, so give away as much as possible.

Do

— If you have the time to complete, review, sign, or reply to the item, do it immediately. Then get it going back out the door to the requester. This step is generally for action items that will only require two to five minutes to complete. Investing the time now will save time in the long run because you won't review the item over and over again.

Date

— For items you can't work on immediately, determine when you need to see the item again and put in the appropriate dated storage system.

Drawer

— File items you can't toss, delegate, and that don't require any action. 

Delete

— Halt the information; keep it from getting to you in the first place. Stopping reports, memos, letters, minutes, catalogs, magazines, and junk mail that you don't need or have time to read.
If you're focused on decluttering your inbox and need something to entertain the kiddos in the meantime, check out
SitterStream
—
the #1 platform for virtual babysitting and tutoring. Services are available on-demand, within an hour 7 days a week. Tutors are available for all ages in all subjects. The best part? All memberships also include unlimited free group sessions like kids coding, art, music, and chess.
5. Cleaning products
As far as organizing tips go, this is a big one, due to the serious impact of cleaning product chemicals on your health. Many of us end up buying tons of single-use and single-purpose cleaning products to handle our household cleaning needs. Not only is this expensive, but
conventional cleaning supplies are also indoor air pollutants and a serious health risk in our homes
– as harmful to our respiratory system as smoking a 20 cigarettes a day! While natural cleaning supplies make claims about being "safer," they often aren't and come at a high price. This industry is very poorly regulated with
only around 300 of over 62,000 chemicals having been tested for safety
. Try to select toxic chemical-free cleaning products, avoiding ones that contain fragrances, preservatives and disinfectants, or replace 99% of your cleaning products with our does-it-all family-friendly cleaner, Force of Nature.
Learn More About Force of Nature
As real, actual humans, we're always looking for organizing tips to keep our homes clutter and germ-free – and our families healthy and happy. That's why we created
Force of Nature
, our revolutionary cleaning system that transforms simple household ingredients (salt, water, and vinegar) into a natural cleaner & disinfectant that kills 99.9% of germs and can be used on everything from stainless steel, glass and tile to your baby's pacifier. It's family and pet-friendly and 100% satisfaction guaranteed. Learn more about the science behind Force of Nature.