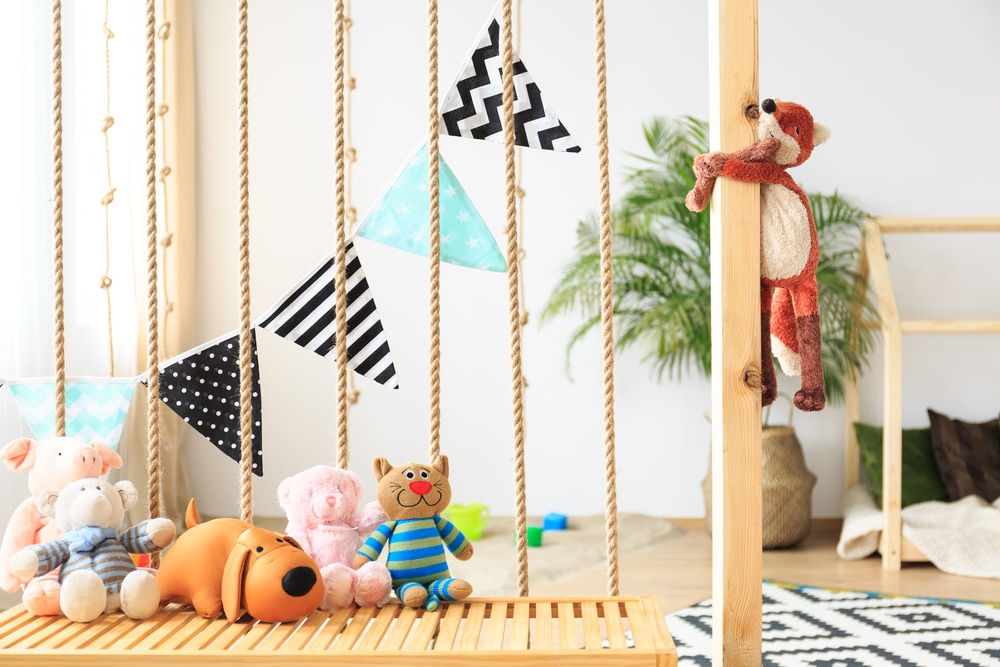 Of all the people who could benefit from eco-friendly and non-toxic products, new parents might just top the list. Not only are they plunged into a new world of products and brands, but they're understandably concerned about making the best possible choices for their precious little people. Gifting them thoughtful, high-quality, eco-friendly baby gifts is a great way to expose them to responsible brands that can help them throughout their parenting journey with the added gift of not having to exhaustively research it themselves. And, since we can't be there at 2 am (and 4 am, and 6 am), a truly awesome shower gift is really the least we can do for them.
Eco-Friendly Baby Gifts Every Parent Will Love
There are a lot of reasons to select non-toxic and eco-friendly baby gifts for the newest kid on the block, not the least of which is that they put everything (everything!) in their mouths. But
studies are now being conducted to determine
critical windows of development in children
, when exposure to toxins may be more impactful than we thought. So, beyond the fact that a gorgeous wooden or organic cotton eco-friendly baby gift is adorable, it's also safer. To get you started, here are a few of our favorite eco-friendly baby gifts and brands.
Toys and Teethers
What to avoid: Plastic! It's linked to all kinds of
health hazards
, it's terrible for
our environment
and
even BPA free alternatives
are concerning. What to look for: Wood toys are sustainable, safer and durable enough to be gummed by a second generation of tots. One watch out: make sure to click around on a brand's site to learn how their wood is manufactured, treated and
painted
, to avoid potential hazards like metals. Most eco-friendly brands are transparent so you can feel good about your gift. Our favorites:
EverEarth's
line of non-toxic and eco-friendly baby gifts are beautiful and high quality. We also love Hape's line of wooden toys that can grow with them, like
these gorgeous
wooden alphabet blocks.
Baby Bath Products
What to avoid: Personal care products are very poorly regulated and, sadly, the baby brands you remember fondly are some of the worst offenders. These types of products often contain preservatives like
parabens
, which are endocrine disruptors and surfactants (like
sodium lauryl sulfate (SLS)
, which are foaming agents that can trigger allergic reactions. Perhaps worst of all, baby products are loaded with fragrance, which is a
sneaky industry term
that allows manufacturers to hide ingredients. What do look for: Check out resources like the
EWG's Skin Deep Database
to identify some brands that are creating responsible products, so you can learn more about which ingredients to avoid in baby (and grown up!) personal care products. Our favorites: Bath products are one of our favorite eco-friendly baby gifts. We love pairing a beautiful,
organic cotton hooded towel
with a product from
the Beautycounter Baby Bundle Collection
, formulated without fragrance or
a
ny of the
toxins
the brand commits to avoiding.
The Changing Table
What to avoid: the changing table is a potential toxic landfill due to harmful chemicals in diapers, wipes and diaper rash cream which, like the bath products mentioned above, often contain harmful toxins in the form of scents and preservatives. What to look for: Fragrance is a big one here again to avoid, and "unscented" or "naturally" scented products can still trigger allergic reactions, so seek out those that are fragrance-free and preservative-free. Our favorites:
We just love these
changing mats from gathre
. As beautiful as they are durable, they're an eco-friendly baby gift you will want to give over and over again. Pair it with a non-toxic diaper rash cream or a lovely set of
reusable cloth or bamboo diaper wipes
.
Clothes and Blankets
What to avoid: clothing and blankets are often treated with well-meaning chemicals
like fire retardants
, which are linked to a
scary list of health concerns for children
, like mutating DNA (yikes!). Outdoor gear often undergoes treatments that make them waterproof or helps increase durability. Unfortunately, these come with
toxic exposure
as a considerable downside. What to look for: 100% organic cotton products are a beautiful, safe and durable choice. Our favorites:
This roundup
offers a bunch of safe, beautiful options, including beloved
Hanna Andersson
with its cheerful stripes for the whole family.
Outside the Gift Bag
If a physical gift doesn't strike a chord with you, there are so many ways to celebrate this joyful time in your friends' lives that doesn't involve wrapping paper. Help set up a
meal train
to keep them fed and loved after their baby arrives and to cut down on takeout.
Plant a tree
or name a star in their baby's honor. Donate to their college fund. Or, maybe best of all, treat the new mom to something for herself, like a
massage
. Whichever you choose, you can count on us to be here for every childhood mess and mealtime spill with our non-toxic cleaning system,
Force of Nature
. And, for even more on eco-friendly baby gifts, check out our post
5 Easy Swaps For A Non Toxic Nursery
!