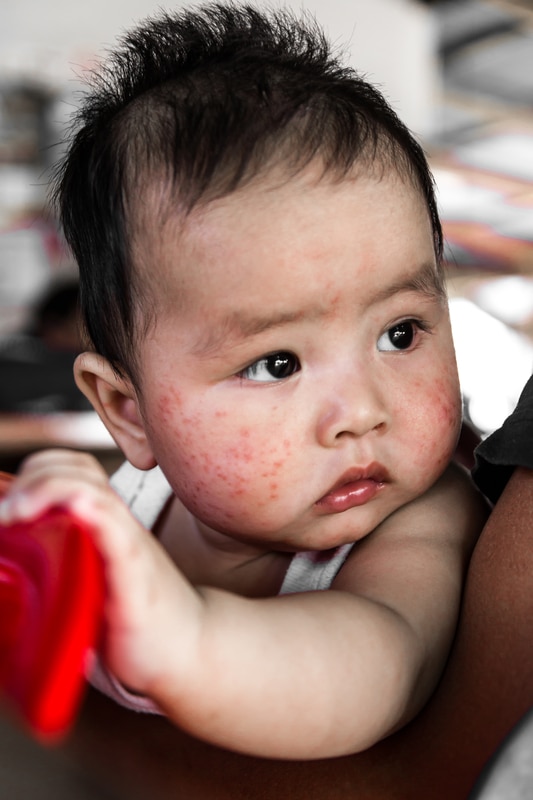 If you have a child with skin or respiratory allergies, you know it's challenging to avoid all the products that can trigger their allergies.  According to the CDC,
almost 30% of children suffer from respiratory or skin allergies
.  It can be really scary when your child develops an itchy rash, burning eyes, wheezing or difficulty breathing.  It's especially difficult to know which fragranced products to avoid, because fragrances can be a
cocktail of ingredients
that manufacturers aren't required to disclose. A chemical free cleaning regime can be very helpful for families with allergies, but hard to pursue with the lack of manufacturer transparency on ingredients. We're here to help!
Toxic Chemical Free Cleaning Products: What You Need to Know
Conventional cleaners and deodorizers are notorious for having dangerous chemicals and triggering allergies. But what might surprise you is that most natural cleaners aren't actually the ticket to toxic chemical free cleaning either.  Unfortunately, because there are no federal standards for what makes a cleaner "natural", even these products can be full of skin, eye & respiratory irritants.  The botanical or natural fragrances used in these products can cause
the same allergic reactions as the synthetic ones
.  The Environmental Working Group rates products for safety, including assessing the presence of skin & respiratory irritants. Check out these examples:

The sources of allergens in cleaners are typically
fragrances, dyes, preservatives & surfactants
. But because manufacturers aren't required to list all their ingredients on product labels, it's hard to really know what's hiding in these products.  You probably already know to avoid bleach and ammonia, so here are some other tips for shifting to a toxic chemical free cleaning regime:
Avoid cleaners with fragrances and beware of any natural cleaning solution ingredient that ends in "oil" or "extract".  Common fragrance allergens are limonene, hexyl cinnamon, citrus and lavender oil extracts.
Avoid cleaners with methylisothiazolinone (MIT) & methylchloroisothiazolinone (CMIT), commonly used preservatives even in so-called "natural" cleaners.
Avoid cleaners with the surfactants sodium lauryl sulfate (SLS) & sodium laureth sulfate (SLES).
Do your own research on cleaning product ingredients. An excellent source that ranks cleaners according to their safety and shines a spotlight on dangerous ingredients is EWG.
Regularly wash bed linens, throw rugs, dish towels and stuffed animals (sorry Teddy!) in hot water.
Vacuum frequently with a HEPA filter.
Keep counters clean & dry.
Clean entryways into your home to keep dust & pollen from being tracked in.
Up to a third of children have mold allergies, so keep your home free of mold. The good news is that you don't need bleach to do this. Force of Nature is non-toxic yet cleans mold as effectively as bleach AND prevents it from coming back.
Toxic Chemical Free Cleaning That's Allergy-Friendly
Force of Nature is a great option for families with allergy concerns, because it starts with just salt, water and vinegar. It has no added fragrances, dyes, preservatives or surfactants. Because it's as effective as bleach, you can use it to streamline multiple cleaning products – deodorizers, bleach, kitchen, bath, glass, floor & rug cleaners – to just one.  And at just $.07 an ounce, it's less than a third the cost of typical natural cleaners.  To learn more about Force of Nature,
hop on over here
.