Natural Cleaning Solutions:
5 Ways This Natural Cleaning Solution Keeps Bathrooms Squeaky Clean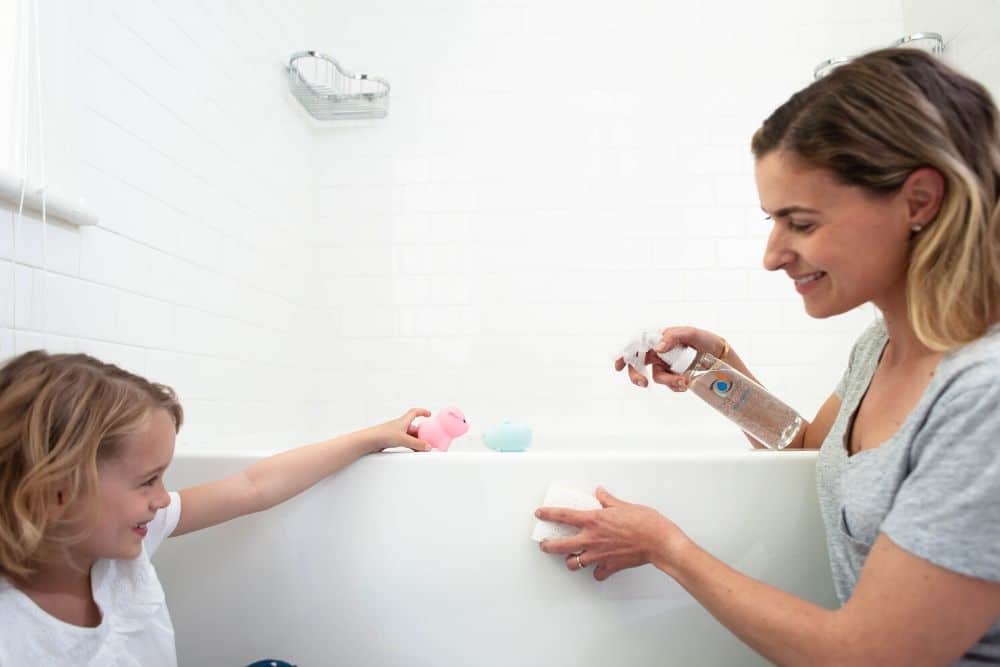 Cleaning the bathroom can be one of the bigger cleaning tasks in the house.  Many people treat it as a hazmat operation,  attacking it while armed with their strongest chemicals and gloves.  Even people who use natural cleaning products in the rest of the home find that those products often can't stand up to the challenge of the bathroom.
A Powerful Natural Cleaning Solution
Now there is a new natural cleaner and deodorizer that's just as effective as bleach but with no dangerous chemicals or fumes. Force of Nature is a small appliance that transforms salt, water & vinegar into a non toxic cleaner with no allergens or skin or respiratory irritants.
Here are some bathroom hotspots where it can help:
1. Mirrors
Kids seem to projectile spray when they are brushing their teeth. Then the spray gets dried onto the mirror, which along with greasy fingerprints creates a cloud of kid-grime. Guess what? Now you can recruit the culprits to actually help you clean!  Since you don't have to worry about dangerous fumes or chemicals with Force of Nature, you can have your kids help you spray down the mirror and wipe it clean.  Force of Nature is even safe on skin so no need to worry if they touch it.
2. Tile and tile grouting
Remove soap scum on tile and grouting.  Most people don't know that grout gets stained over time because it absorbs soap residue. With continued use, Force of Nature can actually remove these stubborn stains. It's tougher on soap scum than Scrubbling Bubbles yet has no toxic chemicals.
3. Bathtubs
With Force of Nature, you can give babies a bath immediately after cleaning because there is no toxic residue that can harm skin. It's also great for cleaning bath toys which can tend to get slimy. Just spray, wait 30 seconds, and that ducky is ready to go.
4. Toilets
Ah, little boys and toilets. Need we say more??  Clean that throne of ick with Force of Nature.  It also stops nasty odors without the dangerous fumes and irritants that can trigger allergies and asthma.
5. Door handles
It's a scary statistic. Only 5% of people wash their hands property after using the restroom, according to report in the Journal of Environmental Health. Even more disturbing, 10% of people skipped washing their hands altogether. Because it's a natural cleaner with no harmful chemicals, it's safe to spray Force of Nature on the doorknobs your children use.
Want to know more?
Force of Nature lets you turn salt, water and vinegar into a nontoxic, all-purpose cleaner and deodorizer that's as effective as bleach, yet safe enough to use around your kids.  To learn more, click here.