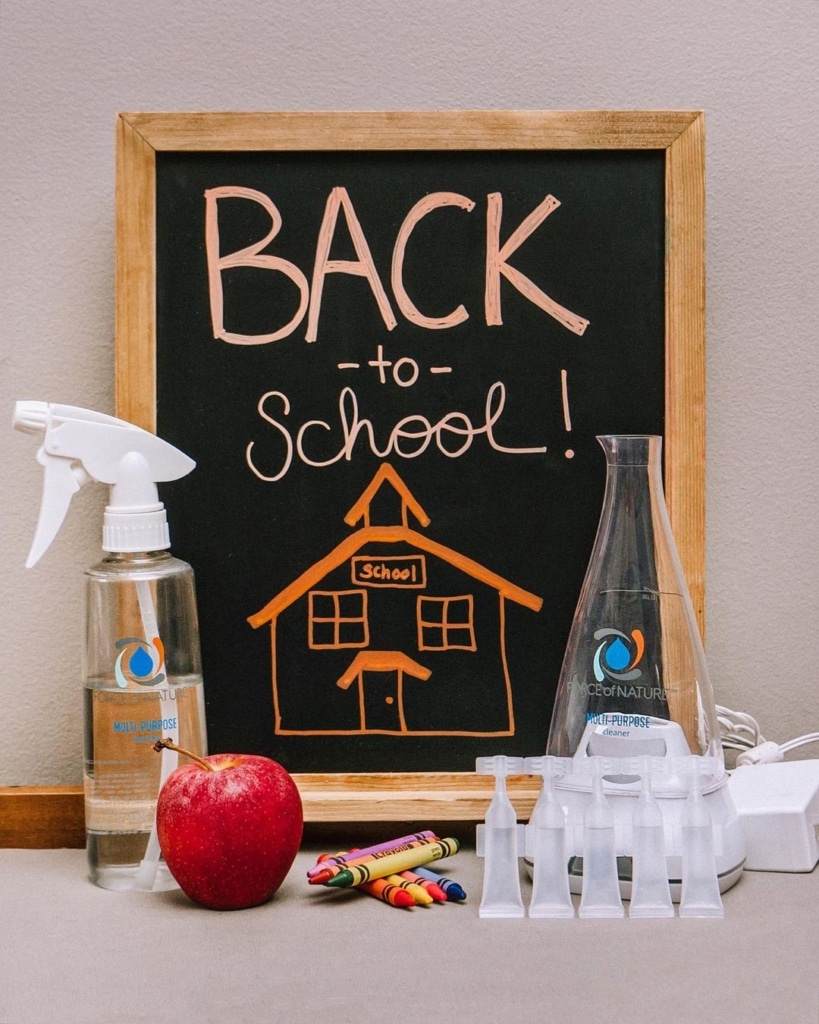 Guest blog post from Abbie Davidson Editor of The Filtery, a website that provides curious citizens with well-researched and practical solutions for reducing toxins in their homes and bodies. Image via @sarashootingit.
Finding everything your kids need to go back to school is not always an easy task! And if you are a conscious shopper who prefers to buy toxic-chemical free and eco-friendly products whenever you can, it can be even more difficult.
Needless to say, there can be a
lot
of plastic involved in school supplies. Not only that, but you have to watch out for all kinds of toxic chemicals—PFAS on backpacks, BPA in food storage containers,
asbestos in crayons
,
phthalates in 3-ring binders
, quats in cleaning supplies, lead in water bottles, etc.
So, the purpose of this article is to help you find safer and more sustainable school supplies, from lunch boxes and food storage containers, to cleaning supplies, eco-friendly pencils and notebooks, and more. 
I hope this guide will save you a lot of time and stress this back-to-school season!
(P.S. To help one school transition to better-for-you cleaning products, we are giving away nearly $5,000 worth of prizes, including a Force of Nature kit for every classroom in the winning school! You can find out more details and enter to win
right here
. There are prizes for YOU, too!)
Prioritize Food Contact Surfaces
There are so many back-to-school items to buy, from new clothes to backpacks, pencils, highlighters, notebooks, and more. Trying to buy an eco-friendly version of
everything
can be difficult (and expensive).
So, it might be helpful to focus on certain categories over others in order to reduce stress.
I would recommend
prioritizing non-toxic and plastic-free food and drink containers
, including water bottles, lunch boxes, zipper baggies, and food storage containers. Since these are the products that are holding your kids' food and drinks, I think they are more important than other categories, such as pencils and notebooks.
Depending on the specific type of plastic used, water bottles and food containers can contain endocrine-disrupting chemicals such as BPA, other bisphenols (such as BPS and BPF), phthalates, and more. What's more, research suggests that it's not
just
these specific plastic chemicals that have the ability to cause health problems, but
all
plastic
more generally. 
So while looking for "BPA-free" plastic can be a good first step, it's worth trying to reduce all types of plastic whenever you can, especially when it comes to food and drink storage. 
Glass is a great plastic-free alternative for food and drink, but it's obviously not the best choice for kids and schools.
Stainless steel and silicone tend to be the best options
. Stainless steel is more durable, but it can be heavy. Silicone is lightweight, flexible, and acts the most like plastic. Many parents will use a combination of both stainless steel and silicone containers, depending on the specific child and purpose.
When shopping for silicone, just make sure you look for 100% food-grade silicone, as cheaper, lower-quality silicone can contain plastic fillers.
When it comes to stainless steel, you'll want to look for food grade 18/8, 18/10, or 304 stainless steel. These are the most common types of stainless steel used for things like water bottles and food items, so it's usually not difficult to find them. Pretty much all of the recognizable brands (Hydroflask, YETI, etc.) use these types of stainless steel.
Choosing a lunch box carefully can be beneficial as well, but we'll get to that in a minute!
Where to Find Non-Toxic, Sustainable, & Cafeteria-Friendly Food Storage Containers and Water Bottles:
Some schools require water bottles to be clear. This presents a bit of a problem since the options are basically glass or plastic. Since you can't take glass, I'd recommend going with a bottle that's made with
Tritan
plastic. Although it's not
ideal,
Tritan is said to be one of the best
kinds of plastic available. Although a bit controversial, it's said to be free from all estrogenic activity (even from other chemicals besides BPA). 
Brands like
Nalgene
and
Camelbak
use Tritan for their plastic bottles. If you go with one of these brands, I recommend sticking with the wide-mouth bottles and skipping the straws. These parts (which are often chewed on!) are usually made from plastic, and it's not often clear
what
kind. 
Don't forget that you can clean and sanitize your lunch boxes, water bottles, and food storage containers with Force of Nature!
Skip the PFAS
PFAS have been in the headlines a lot recently; they're the "forever chemicals" that are in our
drinking water
, our non-stick
cookware
, our
rain jackets
, and other consumer products. They come with a host of potential
health concerns
, from endocrine disruption to cancer and more.
PFAS are commonly added to fabrics in order to make them water- and stain-resistant. Backpacks and lunch boxes often have PFAS treatments added to them. But unfortunately, you'd never know it since brands are not legally required to label PFAS-laden products as such.
Choosing a backpack and/or lunch box that's made out of natural fibers such as organic cotton or hemp can be a much more eco-friendly choice compared to synthetic materials, but keep in mind that even organic fabrics
can
still be treated with PFAS (although it's less likely).
Where to Find Non-Toxic & PFAS-Free Backpacks and Lunch Boxes:
Fluf

is a great place to find backpacks and lunch boxes for both younger and older kids (and adults!). They're made mostly from organic cotton, with some recycled polyester used for the interior padding, and no PFAS. They're machine washable as well.

Terra Thread

also sells eco-friendly backpacks made from sturdy organic cotton canvas. They're also machine washable and do not have added PFAS treatments on them.

ECOlunchbox carries super cute reusable lunch bags that can replace those classic single-use paper lunch bags. They're made from GOTS certified organic cotton and are machine washable.

For younger kids,

Bixbee

is a good option as well. They offer fun designs, like glitter unicorns and dinosaurs. They are made out of 600 denier polyester, which of course is synthetic. However, they are third-party lab tested and certified to be free of PVC, BPA, phthalates, and lead. (They're also free from added PFAS, but they're not lab-certified on this aspect.) Some parents may choose synthetic materials for their younger kids because they tend to be more resistant to water, stains, and mold

without

having to add any toxic treatments.
Choose Cleaning Products Without Toxins
Cleaning supplies can actually have quite a large impact on
indoor air quality
, which can, in turn, have a measurable effect on
kids' ability to concentrate
and do well in school.
Most schools require students to contribute to their classroom's yearly supply of cleaning supplies. Some schools ask for very specific cleaning supplies, even requesting specific brands, so you may have a limited amount of control over this issue.
However, if and when you are able to choose which cleaning products you send in with your child, here is some information that can help you choose the best options:
Many conventional disinfecting products such as bleach contain harsh and potentially harmful chemicals like quaternary ammonium compounds (or "quats"). These are irritants that can cause
skin and lung irritation
, which is a problem considering that so many children already struggle with things like asthma and sensitive skin. There is also
some indication
that quats could disrupt hormone function as well, although we need more research on this aspect.
So when it comes to choosing safer disinfection cleaning products (whether it's cleaning spray, wipes, or hand sanitizer), you'll want to look for either
alcohol or hypochlorous acid
as the active disinfection ingredient. These ingredients are able to kill germs just as well as quats and other harsh disinfectants, but without the same health risks.
You'll also want to watch out for other potentially problematic ingredients in cleaning supplies, such as phthalates and parabens. Choosing fragrance-free products is one easy way to avoid phthalates. Looking for third-party certifications such as EWG Verified or MADE SAFE is another way to easily find cleaning products that have been vetted for safety.
Most students are also required to bring in a few boxes of tissues and/or paper towels as well. These products definitely don't come with the same ingredient concerns as the other cleaning products, but if you want to choose healthier and more sustainable options, look for:
Tissues and paper towels that are either unbleached or bleached using chlorine-free methods. (You can read more about this

here

.)

Paper products that are made using tree-free materials such as bamboo.

When it comes to recycled paper products, look for brands that course carefully. Recycled products can contain high amounts of endocrine disruptors like BPA since they utilize things like recycled receipt paper, which often contains lots of BPA. Some brands, such as

Reel

, source their recycled paper pulp from manufacturers that do not use receipts and other paper products that tend to have high levels of BPA.
Where to Find Better Back-to-School Cleaning Supplies
Opt for Other Eco-Friendly School Supplies When You Can
Of course, there are lots of other bits and bobs you need to send your child back to school—pencils, pens, notebooks, etc! Here are some more places to find eco-friendly school supplies:
Join Forces to Make a Positive Difference
I know it can be difficult as a parent or guardian to make changes in your child's school. There is so much you don't have control over: the type of cleaning products used by the janitorial staff, the types of food offered in the cafeteria, the artificial turf on the football field, whether or not there is lead-tainted water coming out of the water fountains, etc.
But remember that there is power in numbers! When you join together with others in your community, whether that's through the PTA, a "Green Council," or a similar organization, you can make a huge impact, one issue at a time.
Here are a few resources to help you get started:
Back to School With Force of Nature
At
Force of Nature
, we're parents who knew there had to be a better way to effectively sanitize and disinfect without putting our families at risk due to the toxic chemicals in conventional cleaning products. We're proud to bring our fellow parents, teachers, and business-owners an effective, yet toxin-free cleaning system that really works. Our systems eliminate single-use plastic bottles and are certified carbon neutral, and can save up to 80% per ounce vs the leading brands. Get one for your little one's classroom or teacher
here
.