Chemical Free Product Recipes:
Chemical Free Shampoo Recipe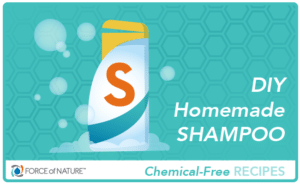 Like many parents, you're probably concerned about the lack of FDA oversight on the chemicals being used in shampoos, conditioners, detergents, soaps, etc, especially now that we know many of these ingredients can be absorbed into the skin and stay in our bodies.  In fact, the FDA doesn't even require safety testing on the ingredients used in personal care products before they can be sold.  If you have kids getting into everything they see (and what toddler doesn't love a spray bottle?), or if your children have skin or respiratory allergies, chemical safety is likely a major concern.
It is scary to know how few of the ingredients used in manufactured products have actually been tested for safety by the FDA. The good news is that in this article we're going to show you how to create your own toxic chemical free, all natural shampoo.
Health and Safety Risks of Toxic Chemicals
Whereas the EU has banned over 1,000 toxic chemicals in personal care products, the FDA has banned only a short list.  Research conducted by Women's Voices for the Earth (WVE) proves that for women, toxic chemicals in personal care products could result in breast cancer, infertility, and birth defects.  Research shows that these chemicals stay in the bodies of children and lead to severe problems in their reproductive systems. According to a study by Environmental Working Group (EWG), toxic chemicals in haircare products have led to hair loss, hair breakage, itching, and rashes.
Learn more about health effects related to chemicals in your shampoo:
What You'll Need to Make Chemical Free Shampoo
¼ cup of Coconut Milk (the key ingredient to our toxic chemical free shampoo)
Water (you can use tap water or distilled water)
13/4 cups of Aloe Vera Gel
20 – 30 drops of Essential Oil of your choice (lavender, citrus, jojoba, sweet almond, and many others. While this is totally optional, it is strongly recommended for people with dry hair)
¼ cup of Castile Soap (you do not need a lot of these – using too much of it will hurt the pH of your scalp).
How to Make Chemical Free Shampoo
Put all ingredients in a bowl or a used shampoo bottle/jar.
Mix all ingredients
Shake well before each use.
Optional: use a mixture of apple cider vinegar and water for more oily hair. You can also rinse with apple cider vinegar after the shampoo.
To achieve the best results, use this toxic chemical free, natural shampoo with a chemical free conditioner.  Check out our recipe here.
Enjoy this post? Share with a friend!