Chemical Free Product Recipes:
Chemical Free Conditioner Recipe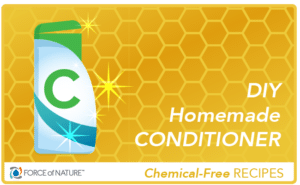 Have you ever thought about the toxic ingredients that could be lurking in something as innocent as your hair conditioner? Do you know that few of the ingredients in manufactured haircare products have actually been tested? Like many parents, ingredient safety is likely one of your top concerns with all the news lately about toxic chemicals building up in the bodies of children. In haircare products, using the wrong product could could mean you are exposing yourself and your children to nasty chemicals like hormone disruptors and toxic allergens. Fortunately, with this post, you will be able to make your own toxic chemical free conditioner (that goes perfectly with your self-made chemical free shampoo).
Health and Safety Risks of Toxic Chemicals
Whereas the EU has banned over 1,000 toxic chemicals in personal care products, the FDA has banned only a short list.  Research shows that nasty chemicals in these products stay in the bodies of children and lead to severe problems in their reproductive systems. In haircare product like conditioner, you'll find a cocktail of toxic ingredients linked to cancer, endocrine disruption, allergies, lung toxicity and potentially even neurotoxicity.  According to the Environmental Working Group (EWG), synthetic toxic chemicals in haircare products have led to hair loss, hair breakage, itching, and rashes.
Learn more about health effects related to chemicals in your conditioner:
Have you ever felt like you have to wash your hair every single day, or it gets too greasy? This is because some common synthetic chemicals hurt your scalp and make it produce more oil to balance the pH of your scalp. Making your own chemical free conditioner solves this problem and gives you more flavors and options to choose from.
What You'll Need to Make Chemical Free Conditioner
Ingredients for the conditioner are even simpler than the ingredients for the shampoo.
2 tablespoons of Apple Cider Vinegar (ACV is the best, but if you want, you can also use lemon juice or other types of acid)
Water
Oil (a few drops of jojoba oil, vitamin E oil, olive oil, coconut oil)
Optional: add some of your favorite herbal tea for fragrance
How to Make Chemical Free Conditioner
Put everything into one container (you can use your old conditioner bottle)
Mix them together
Shake well before each use
The only "problem" with this recipe is that it can get your hair a little bit dry. The perfect solution to the problem is not to use this conditioner every time you wash your hair. Using it 2 – 3 times a week should be sufficient and will keep your hair nice and healthy. If the tips of your hair are still dry, apply some coconut oil or even olive oil and massage.
Now you have your toxic chemical free, all natural conditioner recipe – happy conditioning!
Enjoy this post? Share with a friend!